Day 22: Varmaland – along F578 (IS)
we leave for the South at number 50 but first we will view another waterfall.
then via 518 to F 578
Lava field to start, then slow to half-slow F road, nice drive.
Stop at pos 65 ° 06.045N 020 ° 37.515W. Beautiful place along the river, afternoon in the sun and a swim in the river.
Beautiful driving day, with wonderful afternoon enjoyment.
---
Day 23: along F578 – Gulfoss (IS)
driven all day for a change.
Because of yesterday's blocked road we drove all the way around to get to where we wanted to end yesterday.
Oh yes, what else would a person do, it was a nice ride. That's something too, isn't it?
On the 35th this is the fastest "road" from North to South in Iceland, also very busy.
Certainly every 5 minutes an oncoming car, and that is really busy for here.
Halfway through the 35 we took a side road to get a bit closer to the Glestjer.
Then we drive on, damn a bridge max 5 Ton / axle, no we don't dare, then just drive back from where we came.
This to the delight of the jogging lady that we had already encountered while driving up.
This one would have liked a lift now, so 3rd-person seat tested in front, not official, but in Iceland on a small road this is possible.
oh well
Then continue via the 35 towards the South, there is another car with a breakdown along the road, and then there is the inexplicable, ask if people need help, yes please. We cannot release the wheel nuts.
hahaa, I can make myself useful, less than 10 minutes later these bad luck birds were back on the road with a spare wheel, felt good to do something good for someone.
Then along the Gullfoss, a very large waterfall with a lot of noise and flying water, beautiful also had to be a beautiful waterfall after 300 km.
---
Day 24: Gulfoss – Laugarvatn (IS)
Ho, wonderful day driven 44 km.
From sleeping place first to Geysir, there we went to see the spitting Geysers.
It is at least spectacular, TOP.
Then we drive on to Laugarvatn, where we will enjoy a wellness session.
In FONTANA thermal baths, we received a gift voucher for this at our wedding.
We have been instructed that we should have a good time so naturally we will do that.
And it is enjoyment, wonderful hotspots of 40 ° c, sauna, and the most magical the steam baths.
INCREDIBLE, naturally heated by the geothermal activity that prevails here in our globe.
BLESSED, after hanging all afternoon, swimming, sweating and enjoying it is time to move on.
We stop at position 64 ° 12.290'N 020 ° 51.815'W somewhere in the middle of nowhere.
---
Day 25: Laugarvatn – Porlakshofn (IS)
This morning we left at a good hour.
First stop Pingvellir, this really disappointed.
And not just for me, the lady of the house also expected something else.
We have seen the fault line between the continental plates, and a lot, but with really a lot of Chinese, Germans, Spaniards and Potuguese.
But the end result was good for a 5 km walk, which did a good job.
Then on to Reykjavik, where we walk along the waterfront in the direction of the center. A pleasant shopping street, small shops, a street musician, a park where there was a small festival, the Icelanders with a multitude of tourists who enjoy the really warm weather.
It was good, not a high flyer. But quite ok to experience.
Then back through the convention center, a beautiful glass building. TOP, really beautiful.
And we immediately know where the inspiration for the MAS has been found in Antwerp.
But probably with a buget far below that of Reykjavik.
in the afternoon we leave Reykjavik to head to South Iceland.
---
Day 26: Porlakshofn – Haifoss (IS)
Get up early, have breakfast, empty tanks and refuel water, then refuel diesel again and we are gone.
First stop 40 km from departure to go for a walk in reykakot, a thermally active area of ​​the Myvatn type, but then in its naturally unspoilt, non-commercialized state.
First we had to walk 3 km, and up steeply, but that was really worth the effort to get there.
handsome, really overwhelming, unbelievable, I am impressed by this energy released, so pure from our globe, frightening.
We are back around noon and there we find a crowded parking lot, you could tell by the walk, so many people. Good that we were there early.
Then we drive further inland, to end up at Haifoss.
The third largest waterfall in Iceland, also chic.
With a fall of 128 meters, it is an impressive view from the top.
We will stay here for the night right away, at 9 pm we will be here on our own.
---
Day 27: Haifoss – along F 261 (IS)
Whhooowww, what a ride.
We started the day nice and quiet with breakfast and a morning walk to take a nice picture of the Haifoss waterfall.
Then at 9 o'clock we leave on our F210 route, with the F910 still in mind.
First we arrive on the F210 via a track that does not even have a no. Ammaai that is something different than the F910, drive through beautiful landscapes all day long, with so much variation that it is hard to describe, I am impressed.
Another thing that impressed me was the driving through water, one just a bit too deep.
After measuring the depth (on foot) in glacier water, so quite cold, we decide not to do this. Until suddenly a French family comes out of the bend with three equal vehicles, and suddenly depth surveys are also done, even now the water is found to be too deep.
But other solutions are being sought and discussed, so via there and then on that middle part to there to continue there and then as there.
And indeed, about half an hour later we are all on the other side of the water, some phone numbers are being exchanged for the footage to get to the right destination, and then everyone goes their own way, simply beautiful.
And so we drive the F 210 to the end, wave to the French family again and we turn right onto the F 261 towards South, after a few Km we stop for today.
Top day, top experience with the French family, Top navigation by my wife, and to top off, also Top for the driver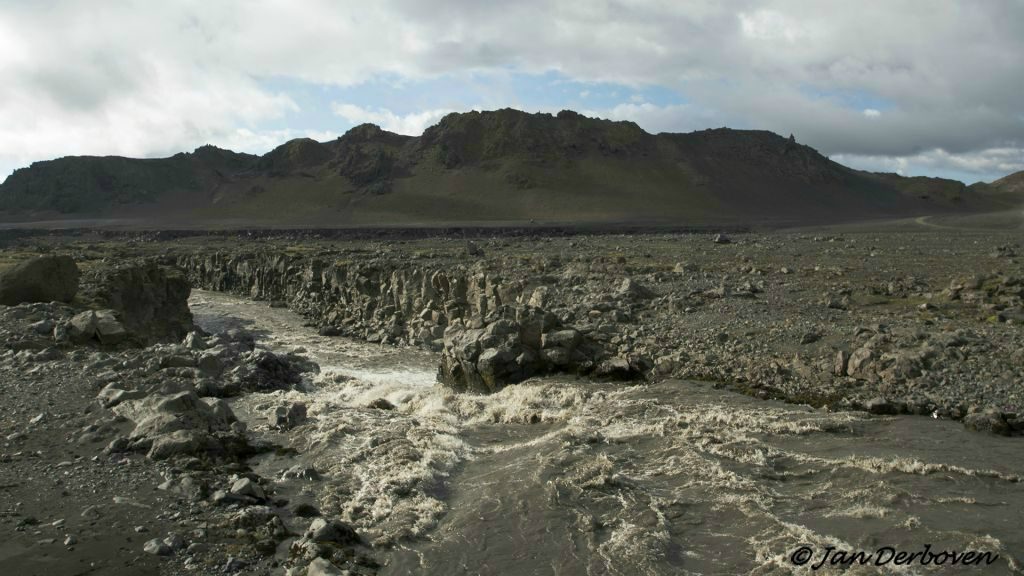 ---
Day 28: along F 261 – Vik (IS)
Enjoyed the morning for a while, after our nightly visit from Iceland's rescue team.
at 11:30 pm people knocked on the door man stood in front of the door stating that they were looking for someone, blond hair and 25 years old. Did we not see anyone?
After breakfast go and do some filming, and then on the road again.
The last 50 km inland, enjoying the quiet non-touristy part
And yes, around noon we reach the ring road no. 1.
For the rest of the day just absorbed in the mass.
First the Seljalandsfoss and second Skogafoss.
just keep going and then we leave the crowds.
Today we had rain again, like that heavy drizzle, JJAKK.