January 17 6 ​​o'clock, alarm goes off, it's time for the ferry to Morocco. At 9 o'clock embarkation, the ferry is a multihull jet that really only has room for cars, campers, caravans, 2 tour buses and that is about it. No trucks. Just wait and see if Bakkie can still go in the boat.
We are allowed to come but we have to cram Bakkie in one of the smallest corners of the ship. It worked. Was it now because of the 9 crew members who were all giving different instructions or by ……… It succeeded and that is the most important thing.
About an hour later we are in Morocco, Tangier Ville … Bakkie is driven from the belly of the ferry in a slightly less spectacular way and on to the customs officers. We have already heard all kinds of horror stories about the Tangier ville customs officers. So much so that we are already holding our hearts, but afterwards everything just stays with the stories. We with Bakkie are outside the gate of the harbor after 15 minutes, so our adventure in Morocco can begin. We drive another 90 km to Martil where we meet tomorrow with friends who arrive with their Moggie. Martil, probably one of the many popular seaside resorts on the Moroccan coast, which is now very deserted. At least the promenade on the beach anyway. The non-touristy side lives its African way. We can enjoy it and do our shopping directly with the small local traders for little money, just fantastic. On the 18th in the afternoon, the friends arrive at the campsite and on the 19th we leave together south-south-east towards Merzouga.
Along the way we pass Volubilis and Midelt. Just past Midelt we have to deal with real winter weather, so much so that even a pass is closed by snowfall. As a result, we make a considerable but very beautiful detour.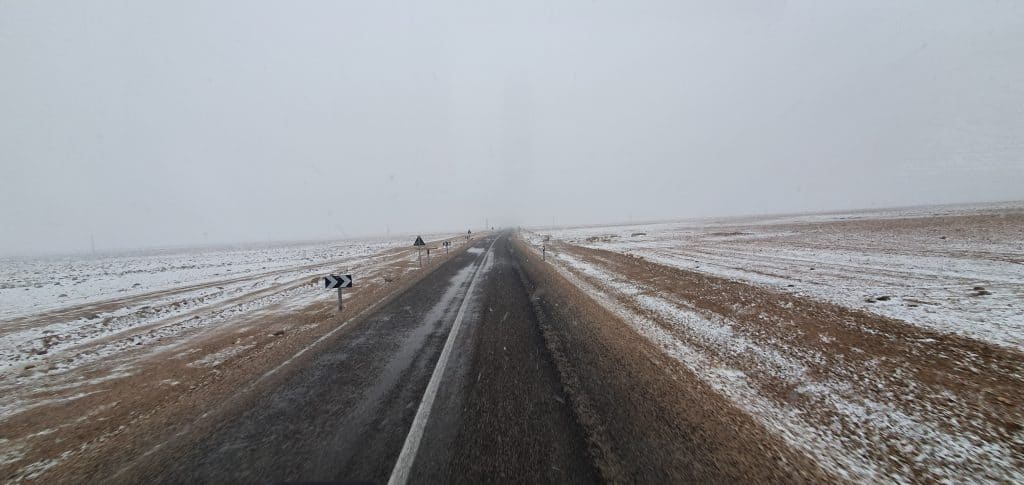 3 days later we arrive in Merzouga where our desert adventure begins. Brilliant but also surprisingly varied, we drive over immeasurable plains of both sand and stone, we pass beautiful mountain ranges, with spectacular views and we drive through the dunes in Ouled Driss. What a wonderful experience