Day 1: Thuis – Wildeshausen (D)
And we have left Our honeymoon to Iceland, this morning Bakkie calmly loaded. Madam des huize is still at the physiotherapist, and then we leave at 10 o'clock. First we have to fill up with diesel, otherwise we won't get far. So to the gas station, refuel as full as possible. Oh yes, every liter counts, so aim well and yes. diesel syringe on edge of filler cap,
result the gentleman who fills our tank is full of diesel. The sad thing is that I am that person. Everything is full of diesel, sweeping me a little clean, no that's not enough I stink like a diesel tank itself. So clean outfit. For the rest, we have not had any notifications today. Minor delays here and there, but nothing to write about. Antwerp itself went smoothly. After the necessary stops we arrive in Wildeshausen Germany. Good start to another great adventure. Off to tomorrow.
---
Day 2: Wildeshausen – Fredericia (DK)
As little traffic jam we had yesterday, the more today.
Bad day, one traffic jam after another.
400 km and on the road all day !!??}}@@:(:( not nice
Stand at the marina of Fredericia, beautiful pitch on the water.
Better traffic tomorrow I hope
---
Day 3: Fredericia – Hirthals (DK)
After a quiet night at the marina we leave for Hirtshals.
Unlike yesterday, today it is wonderfully quiet, no traffic jams and little traffic.
Great to be able to drive back on northern roads.
We arrive in Tornby Beach around noon.
Of course on the beach, heading south, a turn to drive back to the parking.
And yes, stuck in the sand.
With too high a gear we went into the bend, loose sand and BONK we are stuck.
Get out, and yes, I already knew that there was no beginning.
So as we learned 3 years ago, lowering tires to 2.5 Bar.
Digging out wheels 4×4 in lower gear and we are WHOEPS away.
We are gone, it took a good hour of course.
Once back on the hard sand, tires push back to 6.8Bar and then to the parking.
Here we eat that evening and then we move to Hirtshals, apparently there is a ban on "wild camping" in Tornby Beach.
At least there was a sign saying it was not allowed.
And then I don't do it either.
Around 8 p.m. we arrive at a payment car park in Hirtshals
Tomorrow the boat to Tórshavn on the Faroe Islands.
---
Day 4+5: Hirthals – Faeröer
Saturday morning, sleeping late, having breakfast, taking a walk.
And then towards the Smyrilline Terminal.
Way too early, but that's how I am.
Once on board inspect room and explore the boat.
Everything TOP
Rough weather, certainly 5Bft.
M / S NORRÖNA has had this before, quite stable ship.
At 6 pm Faroe Islands time the dinner buffet, FANTASTIC simply no other words for it.
For the rest, we spend our time on board relaxing, updating photos and reports.
And regularly get a breath of fresh air, I like it and my wife too.
So far so good.
We will soon arrive on the Faroe Islands, more about that tomorrow.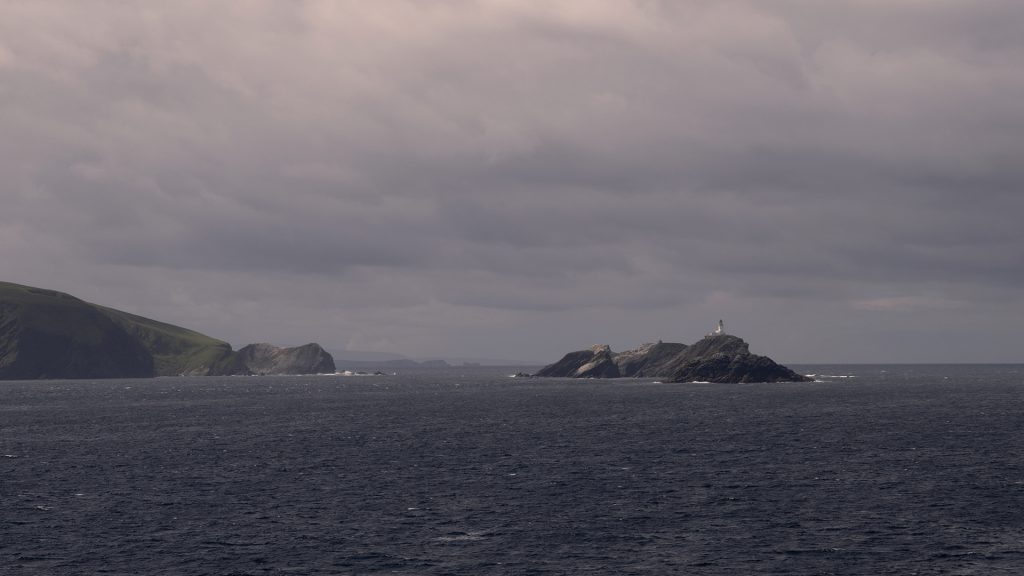 ---
Day 6: Torshavn – Gjolv (FO)
And the first day in Faroe Islands is over.
Beautiful very beautiful.
Everything fresh green, all meadows in bloom.
Beautiful very beautiful.
Today I did the first walk of the holiday, a real walk.
Held in Saksum, NW of the island of STREYMOY.
Walk in a start 3.5 km inland and go to the Atlantic Ocean.
Delicious, peaceful and beautiful, very beautiful.
Then we drove further along a few "SCENIC ROUTES" view routes from sea level to 350 meters and then ended up again at 0 meters.
Again BEAUTIFUL, VERY BEAUTIFUL;
I can write quietly that we both like the Faroe Islands very well.
But a bit small to hang around for 4 weeks, that is not for us.
But not least, we will certainly enjoy the 2 remaining days here, and certainly if the weather stays as nice as today.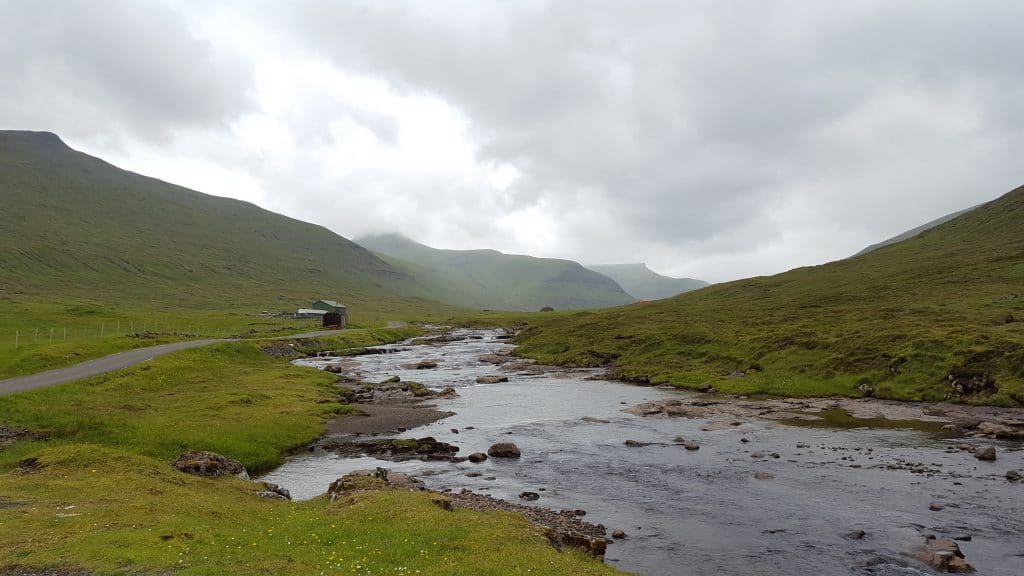 ---
Day 7: Gjolv – Aeduvik (FO)
Lazy morning, sleep late ?? all madam of the house anyway.
I wake up at 7 a.m. oh well
After breakfast, refueled water and we are gone.
Go for a walk in Elduvik, beautiful cliff walk.
Then we drove to Aeduvik, where we will sleep for the night.
On to tomorrow, the journey to Iceland will continue.