Day 8: Aeduvik – Torshavn (FO)
Again a lazy morning, with a wonderful morning sun on our face. Today we are heading back to Torshavn to get on board again from m / s Norrönoam to arrive in Iceland tomorrow morning.
So we take it easy, with an occasional stop to capture the latest images of the Faroe Islands.
It was good here, beautiful landscapes, beautiful weather. the weather for this region was super with lots of sun.
So we very happy. Off to Iceland.
So more tomorrow.
---
Day 9: Seydisfjordur – Pórsöfn (IS)
09:30 Disembark in Seydisfjordur
Immediately over the pass to go to the store in Egilsstardir to buy Icelandic gold.
It is said and written, Iceland is expensive in terms of food, this will be a healthy holiday, knowing my avarice.
11:45 leave Egilsstardir in the north direction via nr. 1 then via the 917 further north.
Start just as spicy, the pass on mountain Hellisheidi with its 657 Height meters immediately one of the highest passes in Iceland, super mountain pass enjoyed it.
Here and there we made a stop to be a tourist and then continue via no. 85
Then asphalt, then gravel roads, it alternates a bit.
Apart from the Ufs pass, I remained a bit hungry today because of the landscape
Better tomorrow.

---
Day 10: Pórsöfn – Kollsvik (IS)
9:30 am, it is becoming a bad habit.
This has to be worked on, half past nine is just too late if you want to do anything.
First stop at Raudanes, here we will go for a walk on the Raudanes peninsula.
It is written that there are puffins here.
So I brought all the big photo stuff.
And yes, after just half an hour of walking. yes puffins.
Wwhhooooowww
The real photo work can begin. Just super.
After having a look at puffins, we continue with the walk along the cliff.
Return around 2 pm and after a cup of coffee set our journey further north.
Around 16 o'clock we drive past the northernmost place in Iceland.
Here and there you pass a tourist attraction to end in Kollsvik, a parking lot along a gravel road,
allé parking is a big word and the gravel road is a bigger word.
We stand quietly here with a view of the sea.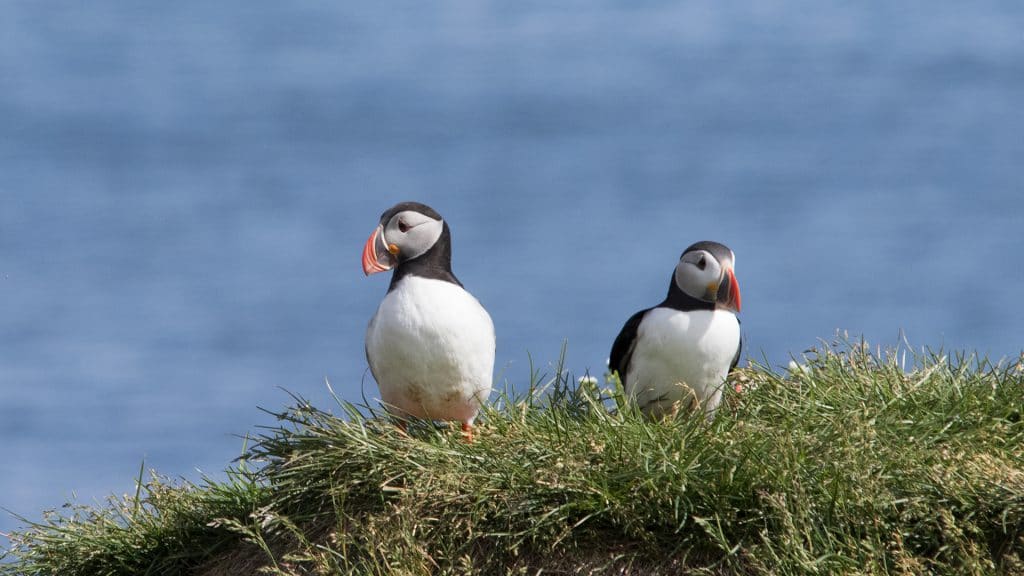 ---
Day 11: Kollsvik – Grimsstadir (IS)
8:30 am we left our parking place this night, first made an aerial shot with the DRONE, and had a crash.
Damage has yet to be measured, and that will not be for today.
After a pretty bad ride on lane no. 862 Really bad and a bit unexpected.
Perhaps the reason that I call them bad, we arrive at Dettifoss and Selfoss around noon.
Immediately the largest waterfall in Europe, impressive,

---
Day 12: Grimsstadir -Drekagea (IS)
road no F88, what a route.
From smooth driving to boulder hard maneuvering between the rocks.
From dusty sandy fields to huge, large lava fields.
From tearing over gravel at 80 km per hour to crawling forwards at a slow pace.
Beautiful road, but very tiring.
Crossed 3 rivers, that was in itself the least spectacular of the day.
The weather has also caused a bit of variety today, sun rain and especially a lot of wind.
Sometimes we imagine ourselves in the desert, real dust storms. Unbelievable
But oke, we arrived today at destination without making any pieces.
And that is an important fact.
And the destination in itself, a post from mountain rangers where 2000 ISK "20 €" per person may be paid to be allowed to stand with the camper, just pay and especially think about it afterwards.
Rain and wind all afternoon that can at least be called stormy.
Temperature outside 6 degrees and we are at an altitude of 786 meters.
On to tomorrow. Hopefully today we can stretch our legs.

---
Day 13: Drekagea – F 26 (IS)
Get out of bed on time and we drive on after breakfast but first we will visit the ASKJA crater.
continue to write BLACK DAY
---
Day 14: F26 – Hverir (IS)
Today for a change but again early out of bed.
Oven bread rolls in the oven and have a nice breakfast with "fresh" rolls.
We deserved that after the hellish day of yesterday.
We drive down the F26 in the direction of North.
At the current altitude around 800 meters it is really lifeless, can understand that STARWARS films have been shot on iceland.
It is desolate, weird nothing of life, except for a lost flower.
And suddenly the height decreases, from 550 Height meters there is life, here and there back grass, 50 meters lower flowers, 50 meters lower flowers and insects. and so it goes on, life still exists in Iceland.
I really thought it was over with our plan, but no, it was just the height that is troubling Iceland, in short summarized above 600 meters everything DEAD.
Just beautiful underneath.
Today we visited the surroundings of the Krafla Mountains, steaming boreholes, boiling mud and warm lava.