Day 1: Thuis – Padborg (DK)
First day, done 764km of the 3200km, everything went very well.
The weather wasn't everything, but it stayed with a few very heavy showers and lots of drizzle sessions 🙂
We were dry in bakkie
Actually not quite, the front roof hatch has leaked along a seal.
Report to Outbound at the overland meeting.
For the rest, no details, except that I do not understand the chatter on radio.
---
Day 2: Padborg – Gränna (S)
Day 2 is also over, at least much better than yesterday.
Certainly when it comes to the weather.
Day started with a fine, yes a fine in the meantime that I didn't do anything, oh no, because I was sleeping.
Or was that perhaps the problem.
Yes, I stood behind a sign that does indeed state only short-term parking.
And I stood there specially because there were cameras all over there, I was convinced that it was a guarded parking lot, bakkie was guarded.
Only the mandatory price tag is on the high side 755 DKK about 87 €
And that was the start of a fairly expensive driving day.
Toll, Belt bridge 710 DKK, Öresund bridge 750 DKK, and if that wasn't enough, all day long wind from the front, this results in an average consumption that is 7.10 liters / 100 km higher.
I won't drink coffee today.
For the rest had a wonderful driving day. in the sun and a temperature of 25 ° in the afternoon, blissful.
---
Day 3: Gränna – Älno (S)
The end is finally in sight another 1070 km.
We can therefore say with confidence that 2/3 of the road trip to Evenes is over, so far so good.
Nothing spectacular to report today, except for a 264 liter tank service, nothing special.
We are stranded in Alnö, on the parking lot of the local marina, where there is also the SSRS, the Swedish rescue service.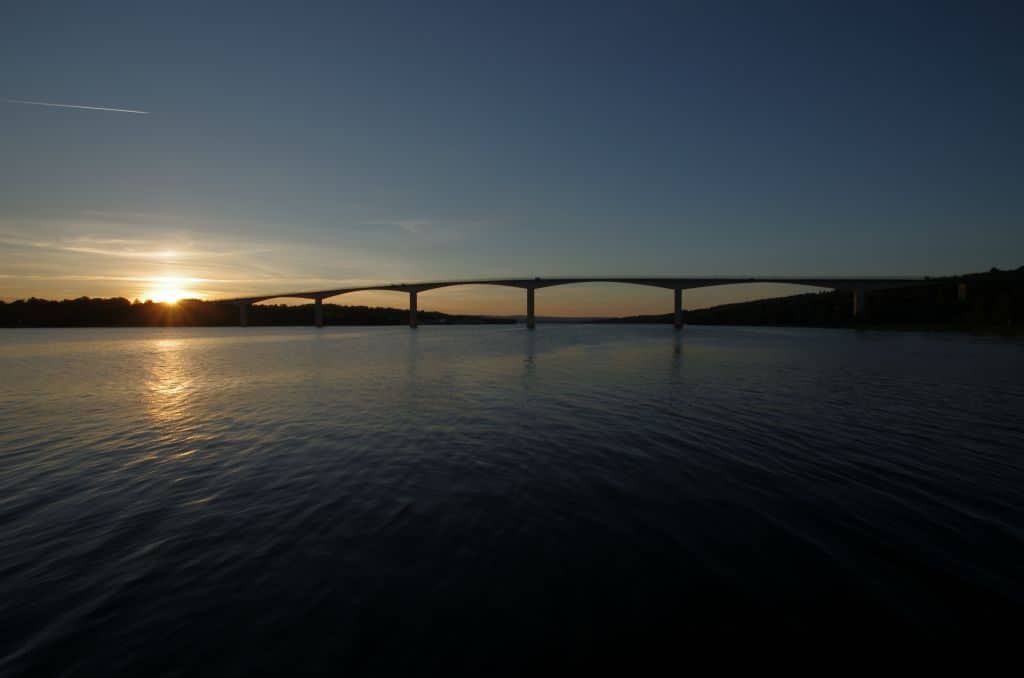 ---
Day 4: Älno – Lulea (S)
Driving is slowly taking its toll. driver is having a hard time.
But there are good prospects, tomorrow we will arrive at pick-up point, 2 days early.
So keep 2 days of driving to a minimum, and take a vacation.
Some walking, cycling, doing a bit of photography.
What I am definitely not going to do is sleep out, the sun rises here in Lulea at 4:21 am, yes, and sun does not go to sleep until 8:47 pm, so sun is here in total 16:26 hours in the sky.
I understand that there are people who have problems with the early sun light, for someone who doesn't like to sleep this is a blessing.
We will evaluate this again in 2 weeks.
For the rest today a driving day through increasingly beautiful landscape (sometimes, not always)
High points of the day,
the Hogä Kusten bridge, a beautiful bridge.
During the afternoon stop, I took a wonderful shower under the outside shower. I save you details because I was there in the middle of nowhere :).
---
Day 5: Lulea – Evenes (N)
End destination reached.
Now rest for 2 days, especially rest. because driving a thick 3200 Km in 5 days is not good for your health.
I am getting more and more understanding for those professional drivers.
okay, we are there and the last part was the nicest.
Torré left and immediately the always northern route is a fact, we are going to drive northwest now.
7:30 AM Pos. 66 ° 33 North in other words, the phoca is on the Arctic Circle, it does not mean much there, there is a large sign with 'Arctic Circle' in 4 languages ​​and a few almost non-readable info signs, okay if one would maintain that, really no more people would go to the Arctic Circle.
A little later we drive into Lapland, and immediately we are treated to, yes, REINDEERS.
I hope that Santa will still have reindeer when his sleigh needs to be pulled, because I have the impression that this cute animal has a certain form of fatigue.
I regularly have to press the brakes, or there is reindeer meat for dinner.
There is also a quick refueling on the way. A total of 204 liters are pumped into the Swedish economy.
Price cheaper than Norway, but 25% more expensive than Belgium, oh well.
In Kiruna I jump into the Scoop for dinner, it will become real SWEDISH BALLS
After several stops between Kiruna and the Swedish / Norwegian border, we arrive at the border with Norway at around 14:30, and I brought very little alcohol and they don't look at it.
I could just as well have stuffed bakkie full of alcohol, oh well, I will not drink too much this holiday.
After an exploration round at the airport of Evenes, we are looking for a place to sleep, no, not this campsite a little further, just turn in here, there is still a camper parked. WHAAWWW.
I appeal to the Norwegian right of camping wherever you want, the Phoca is probably on the most beautiful part of Norway.
Right on top of a bunker of the Germans. Then I'll find out later of course. I will stay here until madam der MBH's has to be picked up.
---
Day 6: Evenes (N)
Rest day.
Rest is of course not for me. I have slept out, to my own great surprise I only got up at 6:30 am, meanwhile it was getting light at 3:00 am.
But it is a day of rest so I think it's permissible.
After breakfast of toasts, a wonderful morning walk to the top of the mountain where you can still see everything related to the 2nd World War.
I don't regret it.
After a good hour of walking back to the bakkie, another cup of coffee, making the bike ready and we go, cycling along the water to Tarstad, actually looking for an ATM and bread.
Nothing, but nice cycling, has a lot in common with the Ardennes.
We will be back at Bakkie around noon, so time for lunch.
As usual, a healthy, deliciously filled holiday sandwich.
After eating everything, still looking for ATM and bread, we head for Liland.
Even better cycling, and especially friendly cycling.
Everyone I see sometimes waves from far, very far in the garden or from the roof, but people wave, sometimes close very close while cycling on the street, they greet you together with a sincere friendly smile.
Wow what are these lovely people here, I am not used to that anymore, that kind heartfelt greeting with a smile, blissful.
To come back to our ATM and bread search, the bread is found in Liland, hold on for the slightly less friendly price for a bread of 650gr 3.98Noose crowns = 4.4 euros, but you are even thanked for the purchase of 1 bread.
Great day, with a nice walk, 45 km of cycling and 2 hours of fishing, fishing without result.
---
Day 7: Evenes – Ballstad (N)
first a nice breakfast together.
Then out, all in drive.
Today the tour starts on the Lofoten, first miss the turn, so agrees the lady of the MBH.
First lead incorrectly, but this was a well-calculated wrong navigation.
Arrive by accident in Lodingen, beautiful fishing town / village, go to see the local marina and lighthouse, and then continue to the Lofoten.
In Fiskebol we leave the E10, this is the main axis through the Loffoten and go via an alternative route.
4x longer than the normal route, but certainly 4 times as beautiful.
After returning to the E10 we pass Svolvaer for shopping and an internet SIM card.
Eventually we end up searching for a little too long in Henningsvaer, where we are just parked along a street.
We took another good walk after dinner.