Day 8: Santa Claus Village – 66°40,062N 27°33,480 E (FIN)
Sun up: 10:41 uur Sun down: 13:54 uur
Leaving the busy Santa Claus village to find a quiet place to celebrate New Year's Eve.
And yes, our lady MBH manages to find a place.
Immediately after arrival we are inspected by a local lady with her husband.
They came to take a look under the excuse that they came ice fishing, 🙂 not in the clothing they are wearing.
But it's no problem that we stay here for the night.
It is a kind of swimming beach in the summer with all kinds of facilities.
Real ice fishermen come later in the day, but we have no contact with them.
We are in any case at an exclusive place again, but without Northern Lights this year.
But of course you can't have everything, we will make it a pleasant and enjoyable evening.
And we celebrate New Year 1 hour earlier than the home front.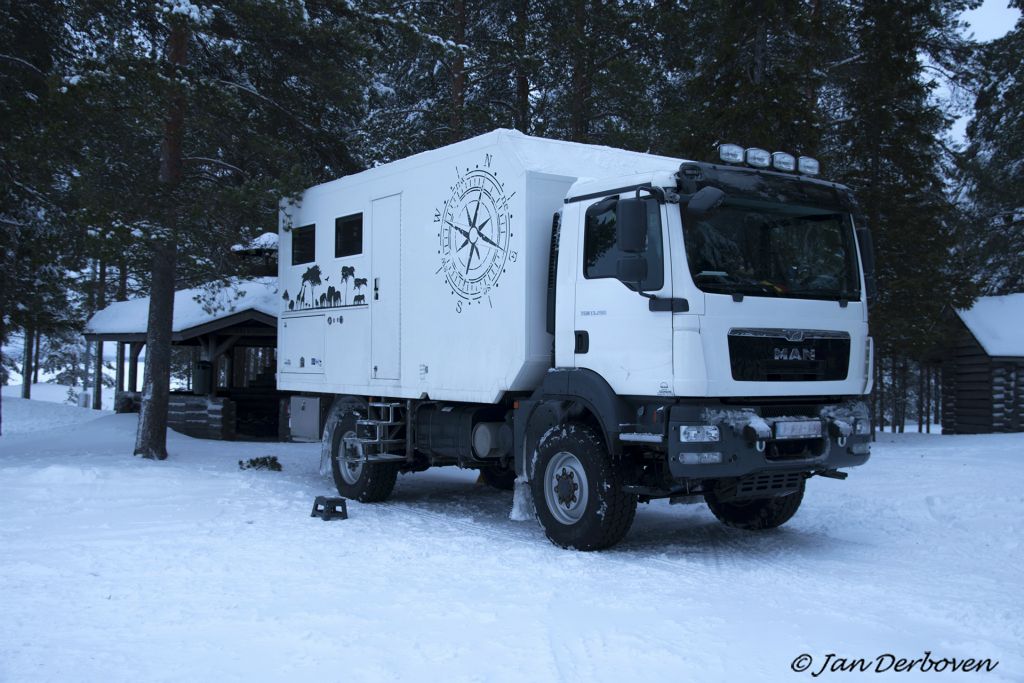 ---
Day 9: 66°40,062N 27°33,480 E – Luosto (FIN)
Sun up:10:29 uur Sun down: 13:20 uur
New Year's Day.
No stress, take it easy.
Just a short walk before we leave and on to the next spot Pyhä.
Here we make a beautiful walk and back via another path to the parking.
At the departure of the walk we had learned that it is not appropriate to spend the night at the parking, there is a campsite, info in the hotel above.
So we took a detour to the hotel to inquire about the price.
1 night all in 57 euros sir, 57 eeuuurrrrooooo. I DON'T THINK SO, and so we leave for our next place to sleep in Luosto.
On the parking where the walk starts to an Amethyst mine, but that is for tomorrow.
Very quiet here.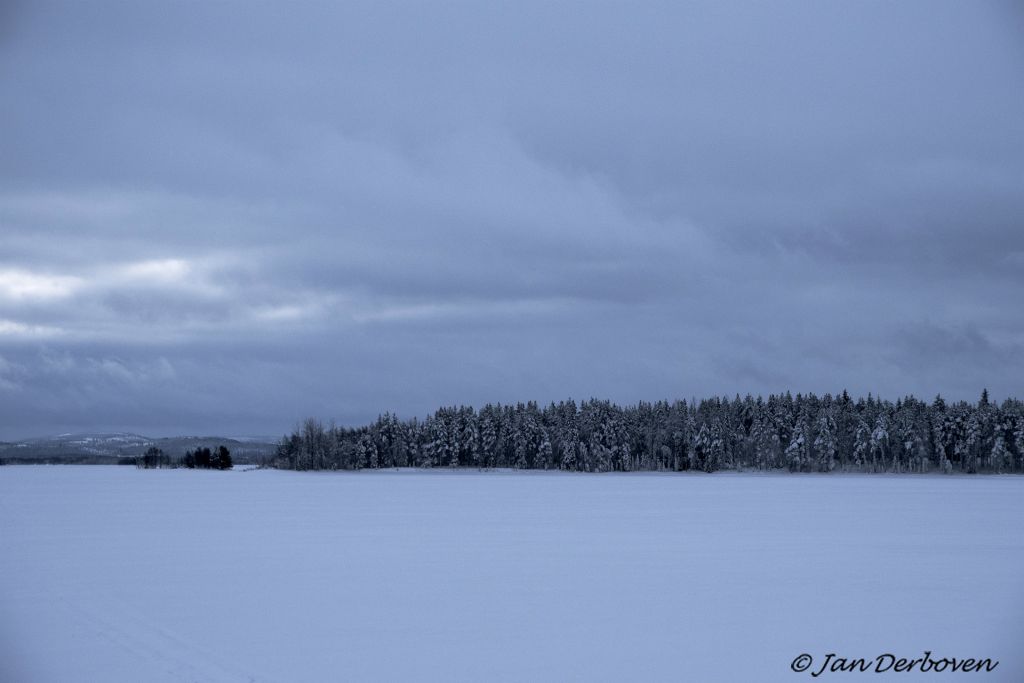 ---
Day 10: Luosto – Santa Claus Village (FIN)
Sun up: 10:30 uur Sun down:
Got up on time, had a quiet and good breakfast to go for a snowshoe walk to the amethyst mine.
We do not visit them, 37 euro entrance fee, no thanks.
Via another snowshoe path back to the pitch.
Beautiful walk through a mysterious snow landscape in the fog.
It is good that the walk is marked with blue posts, otherwise things could go quite wrong in this kind of environment, but everything will be fine, from the moment that we come a little lower then the view also comes back.
Nice walk.
We drive back to Santa Claus village.
---
Day 11: Santa Claus Village (FIN)
Sun up: 10:25 uur Sun down: 13:57 uur
Calm start,
today we are going to take a snowshoe walk around here.
20 km from the pitch, again a beautiful one.
Completely different than yesterday, but certainly not less
---
Day 12: Santa Claus Village (FIN)
Sun up: 10:45 uur Sun down: 13:57 uur
An extra Christmas / birthday gift for my wife.
There was a choice of
1) dog sled safari
2) Reindeer Safari
3) snowmobile safari with ice fishing
It becomes no 3,
We go on a safari with the snowmobile.
It is a small group, us and 3 French "2 men and 1 woman"
Cool gang, good guide and a richly filled day in the Finnish Laplands wilderness.
Day starts start at 9 am with a scooter safari to our lunch spot where we will be served a delicious Finnish fish soup outside at a campfire.
After lunch we go 2 km further with a scooter on a lake, here it is explained how ice fishing works.
After that we can get to work ourselves to drag a fish out of the ice, everything goes according to plan, except catching the fish of course.
That fish was already processed in our soup this afternoon 🙂
After ice fishing, we make another wild trip on the lake and then back to the home base of the safari.
But a few km before the home base is reached around 3 pm, a campfire is made in the middle of nowhere, just making a smooth fire, the guide takes some sausages, sweet cake and some kind of tea from his trailer sledge, and we all enjoy being cozy together of the fire and goodies.
When the fire goes out, it's time to head to the home base
We arrive back in civilization around 5 pm, a wonderful experience today.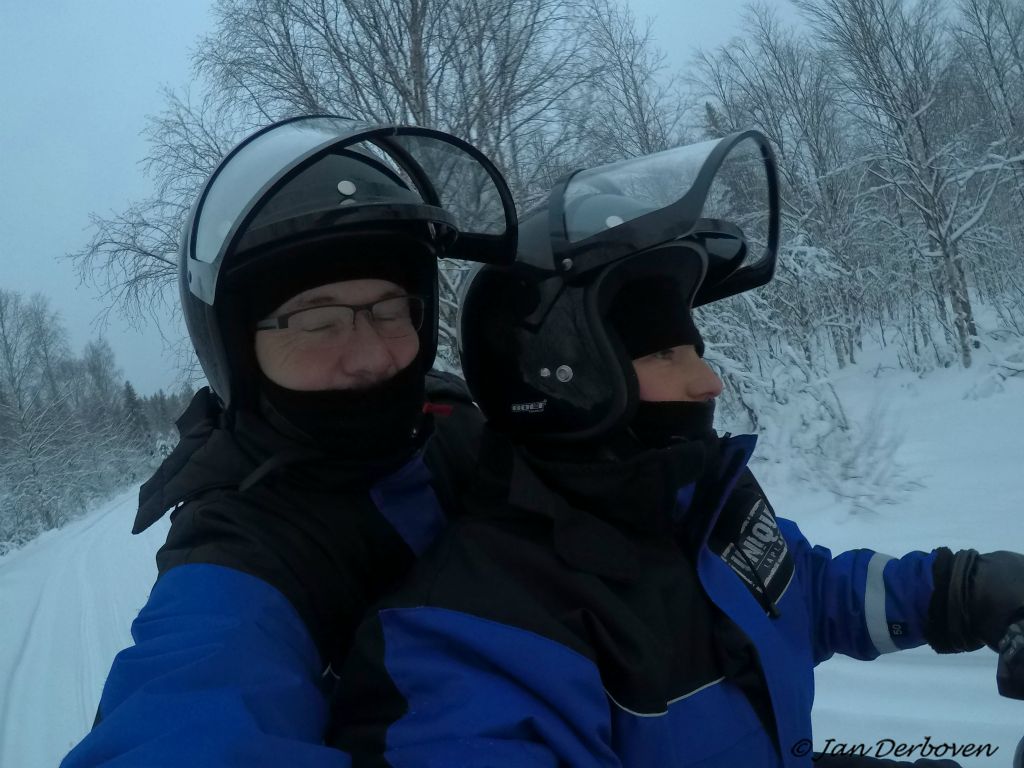 ---
Day 13: Santa Claus Village – Umea (S)
Sun up: 10:45 uur Sun down: 14:05 uur
Today we leave the high North to return to civilization in the south.
First overnight stay in Umea is anything but civilized.
At night the local youth apparently feel it is necessary to go joyriding in the area where we are trying to sleep.
Thanks guys, thanks.
---
Day 14: Umea – Hudiksvall (S)
Sun up: 09:21 uur Sun down: 14:47 uur
After a restless night we drive further south, sleeping place is ok, quiet parking on the edge of a small town.