Day 15: Trollerstiegen – Geiranger fjord (N)
Immediately out after breakfast.
A little further up the pass, to then descend back to the sea "Fjord" level.
To take the ferry over the Norddalsfjord, arriving in Neidals, we continue the course to Geiranger Fjord, beautiful beautiful beautiful.
We are going to the first campsite that we come across, nice pitch on the fjord side, price 240Kr (26 €) actually the campsites in Norway are reasonably affordable.
In the afternoon we go by bike to the village of Geiranger, to take a tourist boat through the Fjord, beautiful, beautiful, enchanting BEAUTIFUL.
---
Day 16: Geiranger fjord – Fläm (N)
We start the day with the welcome of a Cruise ship in geirangerfjord.
We then depart on our voyage of discovery and start the day of driving with a splendor of a mountain pass.
The name has escaped me, and I can't find it on the card anymore. From sea level to 1000 meters.
For the rest, what a day.
Not just another day like another, today it is a day when things are BIG on the schedule.
1) We visit the largest Glacier of the European mainland "Jostedalsbreen Glacier"
2) We drive through the longest tunnel in the WORLD, the Laersdal tunnel 24.5 Km. Not nothing hey
3) We arrive in Flam, and the following is all great here
3a) The largest Fjord in the World "Sognefjord"
3b) The steepest railway route for normal trains in the world (according to the brochure)
3c) The most Spectacular and sensational railway line in the world (according to the brochure)
We will see Bho, 3b and 3c tomorrow, I will not be impressed so quickly.
The Glacier, on the other hand, I am impressed by that. I want more of this someday.
For the rest, we have driven quite a lot today with a Ferry as a welcome break.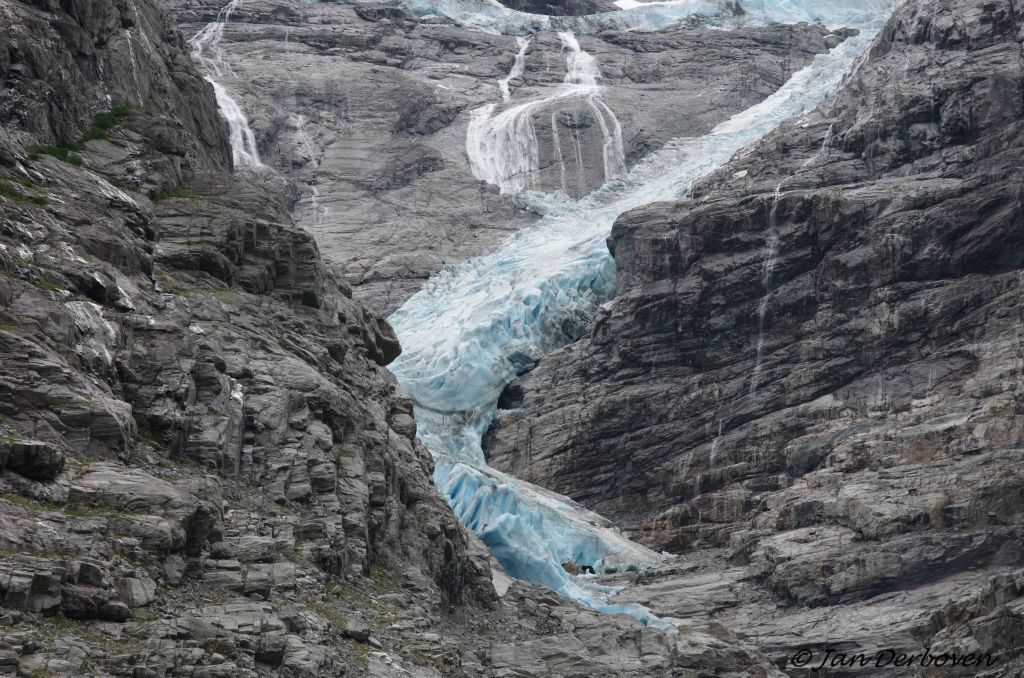 ---
Day 17: Fläm (N)
Madam des MBH is sleeping out, I enjoy not driving today.
A rainy day, but we decide to drive the Flamsbana from Flam to Myrdal and come back down with the MTB.
A train ticket of 450 Kr P / P with bicycle, not nothing.
To correct the folder.
The most spectacular and sensational railway line in the world, bwhaa that is disappointing.
It is a very beautiful train, and the people from 1923 to 1940 have worked hard on this, but I am not impressed, really not.
The cycle route down is worth the effort.
But given the price tag, we will go up on foot next time.
It is not worth its money, really.
But we enjoy going down, the whole route is down hill, nice and lazy cycling.
---
Day 18: Fläm – Bergen (N)
Not much to report specifically, we drove from Flam to Bergen today.
First stop at a beautiful waterfall, for a change :).
This one was really worth it.
Then we drove on to Bergen, where we made a nice city walk and already explored a bit for tomorrow.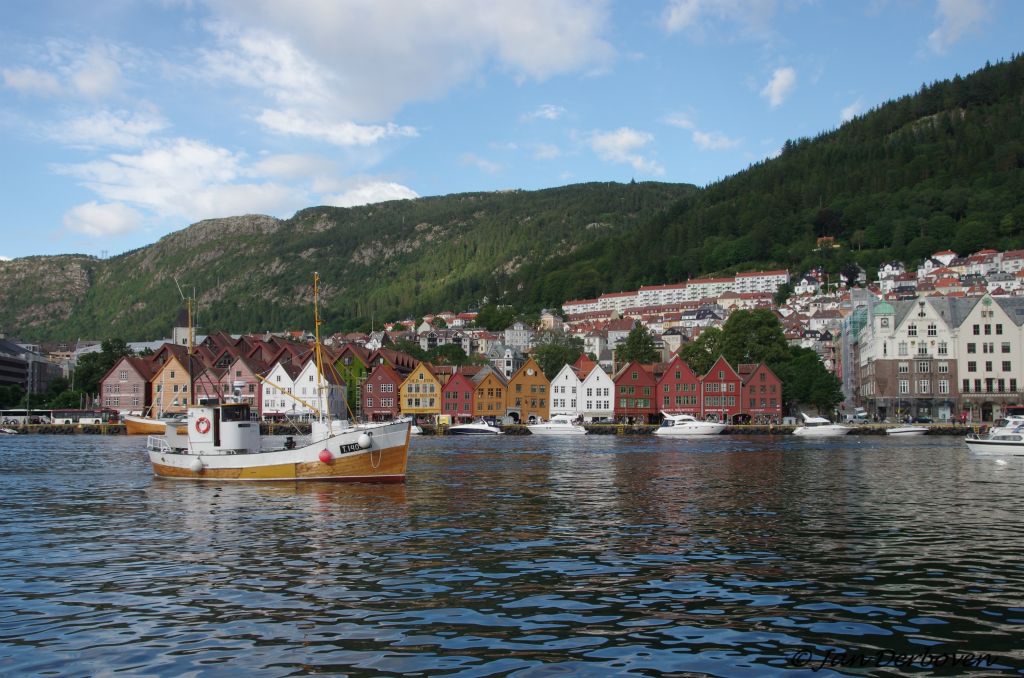 ---
Day 19: Bergen (N)
Rest day and explore Bergen.
---
Day 20: Bergen – Sunndal (N)
The day that loneliness and tranquility returns aboard Bakkie, not that it is more fun alone.
Far from it, but what must be done.
11:30 Madam des MBH brought and waved goodbye in Bergen airport.
Set the GPS on Larvik, with the shortest route as a bonus, later it appears that this is certainly not the fastest, let alone the cheapest.
13:30, arriving at Osoyro where I was on the ferry at 14:05, arrive in Vage 40 minutes later.
continue via the 49, nice drive, missed exit.
Madam GPS immediately offers a modified route.
Via 121 and later via an unnumbered road that even turns into gravel, we come back to it.
Yes, the 49, the gravel road was one of the narrower ones, but we get through it.
15:40 arrive in Gjermundshamm, madam GPS report TAKE THE FERRY. oops ferry to Arsnes.
In order to continue on to Sunndal where we will be staying at a campsite, we simply do not want to look for a suitable place to sleep.
After digging through and taking a closer look at Map and Basecamp, I find out that there is a private road up 15 km further, and depending on whether there is another beautiful glacier above us, I will take to the track tomorrow in time to hopefully extra Km's on a private road.
The previous one was beautiful, I am curious about tomorrow's. So more about this tomorrow.
---
Day 21: Sunndal – Morgedalstjonni (N)
This morning as it should be out of bed at 6 o'clock, have a nice breakfast, get ready and leave.
Set course for Oyre, a small village 15 km from Sunndal to go there on a Private road, one that does not have to be paid, which is double enjoyment.
drive from 0 to 740 meters altitude
on a narrow asphalt road, an oncoming car would not be welcome, and because we are out so early we will not come across one.
End of the road at a power station. Mountain water is easy to make electricity.
Another cup of coffee, preparing a backpack and we are gone armed with a camera and a couple of walking sticks.
The path that is being followed is the old mountain pass, that is very clear, moments later it is much clearer why this mountain pass is no longer in use.
A lot, but also a lot of fallen boulders on the gravel road, now there would be no more coming through, and later the road is even completely snowed down, 1 snow plain a second I also pass but all the way up at 1150 meters the street is still completely snowed down, this is what I pass for.
haven't forgotten mittagdal in 2005.
Take some more photos and start the journey back.
After 3 hours of good walking I am back at the departure point.
Just enjoy and then hop back down with the bakkie. And continue our southern route towards Larvik.
Pretty nice ride without specifics.
---
Day 22: Morgedal – Hirtshals (DK)
what seemed to be a quiet day, with a quiet breakfast and a bit of a tourist, ends in retrospect quite intense.
Start at the beginning. Enjoyed breakfast in peace, left for Larvik on ease.
Along the way been the tourist and armed with cameras and knapsack in Ulefoss to look at a lock complex from the earlier years.
Not so special, we also have 3 locks in a row in Belgium like a staircase, the Norwegians should come and look at our lift, Bho, nice stop.
I just left, I am put aside by a cop who just jumps out of a border. HIHIHI
Window open, I already saw his head that I was something he had not expected.
Good morning sir
good morning, is this a campingcar?
yes sir,
you can drive.
Thank you sir, Hahahahahahahaha, he thought this was a truck ???????? how could that be.
Then on to Larvik, once I arrived there I had something of why wait another 2 days to cross over to Denmark
I go to offices of colorline, no problem, you can go this afternoon. Thank you. Quickly take a picture of a well-known yachting world Mister Colin Archer, a great shipbuilder, especially in yacht format. (this is for the insiders)
At 17:00 we are boarded, at 17:30 the bunches go loose and at 21:30 we are spit out of the belly of the huge ferry.
So the last two sentences were not planted today, but now I have one more day to get home, and I can be home for another day before there are all kinds of obligations again. (work) By the way, I am standing in a quiet parking lot by the sea.
---
Day 23: Hirtshals – Gross Ippener (D)
We sleep far too long by my standards. 9 o'clock, this is unheard of.
Quick breakfast between the teeth with a nice cup of coffee. And hop to the beach for a morning walk.
The intention was good, if no big toys were allowed on this beach.
You can drive the car on the beach, there is even a sign zone 30 with the caption pedestrians have priority.
OK, prepare bakkie and go on the beach, big boy and his big toy.
It will be a short ride, 2 km up and 2 km back, well it looks a bit like a motorway, the sand is very hard. and now to move into the dunes, I don't feel like playing with the shovel today to dig me out, so back to the asphalt.
And once I arrived on the asphalt, I was exactly a pigeon who smelled his house, I drove on until 22 hrs to sleep somewhere on a parking lot, with the intention of leaving tomorrow day before dawn.
If I get home tomorrow, what will work out I can still go to evening school in the evening.
by the way, today we have closed a loop from departure to return.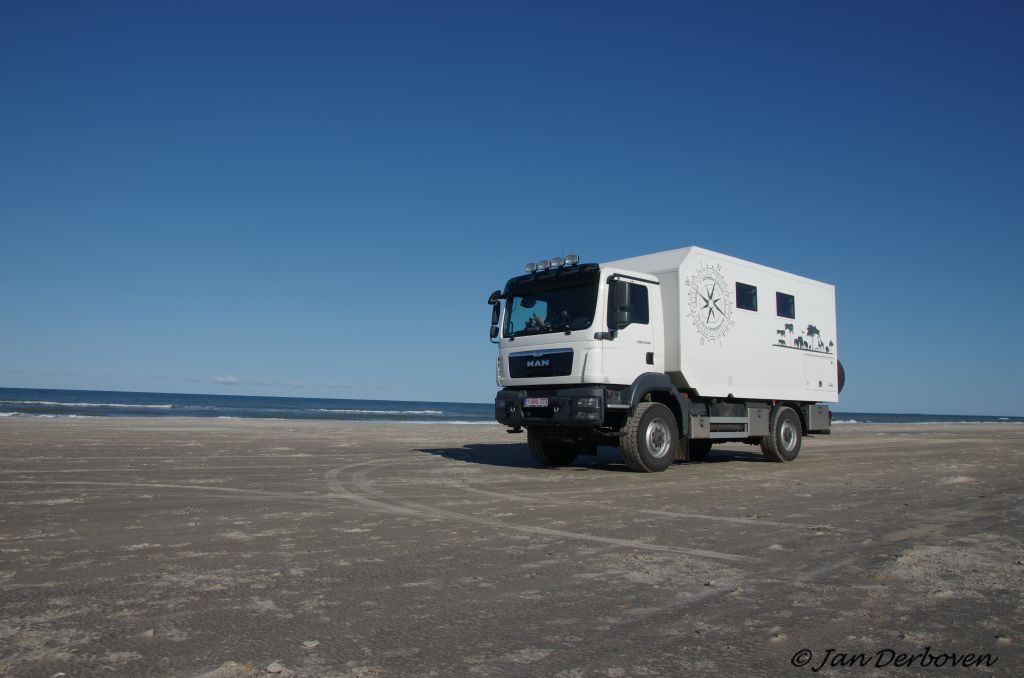 ---
Day 24: Gross Ippener – Home (B)
we start as we left.
Early very early, at 6 am we left to go home.
If it is over, then get rid of it as quickly as possible.
I already miss Norway, with its friendly people and beautiful nature.
If we summarize everything briefly, it certainly has been good.
Especially and I write it again, the friendliness of the Norwegians, it did something to me.
Starting on the E34 was much better than coming back via the Dutch route.
Next time also with the ferry to Norway, to then travel via Sweden north, the E 4 of Sweden is fantastic and fast, you drive pretty flat opposite in Norway where the tracks are just slower, so to get somewhere quickly, via Sweden; With the ferry, because the two bridges are just as expensive as the ferry, and you can rest